Bayer introduces new Turf & Ornamentals roles
Bayer introduces new Turf & Ornamentals roles
Monday, December 10, 2018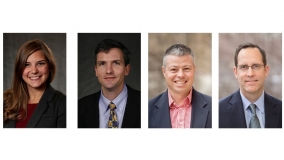 The Turf and Ornamental business of Bayer, within the company's Crop Science division, has announced appointments for several leadership positions within T&O. The changes will enhance focus on the evolving needs of professional turf and ornamentals customers. The following staffing appointments will be effective as of Jan. 1, 2019:
Kayla Brugman, Plant Health and Disease Management Portfolio Manager
Mike Hirvela, Customer Marketing Manager, Golf and Sports Turf Segment
John Wendorf, Customer Marketing Manager, Lawn Care and Ornamentals Segments
Peter Farno, Ornamentals Sales Manager
For full article, please click here.