The Chas. C. Hart Seed Co. - Jim Harris to Retire
The Chas. C. Hart Seed Co. - Jim Harris to Retire
Tuesday, December 12, 2017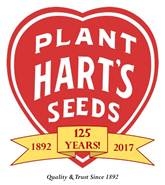 At the Annual Board of Directors meeting of The Chas. C. Hart Seed Co. held on Tuesday December 12, 2017; Jim Harris officially announced his retirement effective December 31.
The Chas. C. Hart Seed Co. and its Board of Directors would like to thank Jim for his dedicated service to the company for over 45 years; working in all capacities including Secretary, Vice President, President and Chairman of the Board.
Jim has been an integral part of the continued success of the company.
We would like to wish him well in retirement and, as he has graciously agreed to remain on the Board of Directors, we will continue to look to him for his guidance and wisdom.
The Board of Directors has elected Bill Hart to President and Rob Hart to Vice President and Treasurer.