RISE members convene in Amelia Island for joint annual meeting
RISE members convene in Amelia Island for joint annual meeting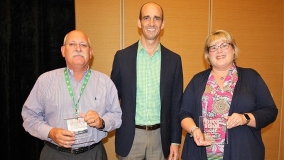 AMELIA ISLAND, Florida — RISE (Responsible Industry for a Sound Environment) welcomed new governing board members and recognized dedicated volunteers during its 28th annual meeting at Amelia Island, Florida, with a focus on engagement and community building.
Nearly 600 manufacturers, formulators, distributors and other industry leaders attended the meeting Sept. 23-26, 2018, held in conjunction with CropLife America that honored its long-time president/CEO Jay Vroom who retired after nearly 30 years and greeted its new leader Chris Novak.
"Our industry is in a time of transition and opportunity," said Darren Horst, RISE Governing Board chair and vice president and general manager of Central Garden & Pet. "We welcome Chris Novak to CropLife America and the potential for our partnership as we go boldly forward in this new operating environment," he added.
The RISE Governing Board met on Sept. 23, and elected new members Katherine Bishop, Lebanon Seaboard Corporation, holding a formulator seat; Scott Reasons, Syngenta, holding a manufacturer seat; and Michael Maravich, Sipcam Agro USA, Inc., filling a formulator seat.
For full article, please click here.